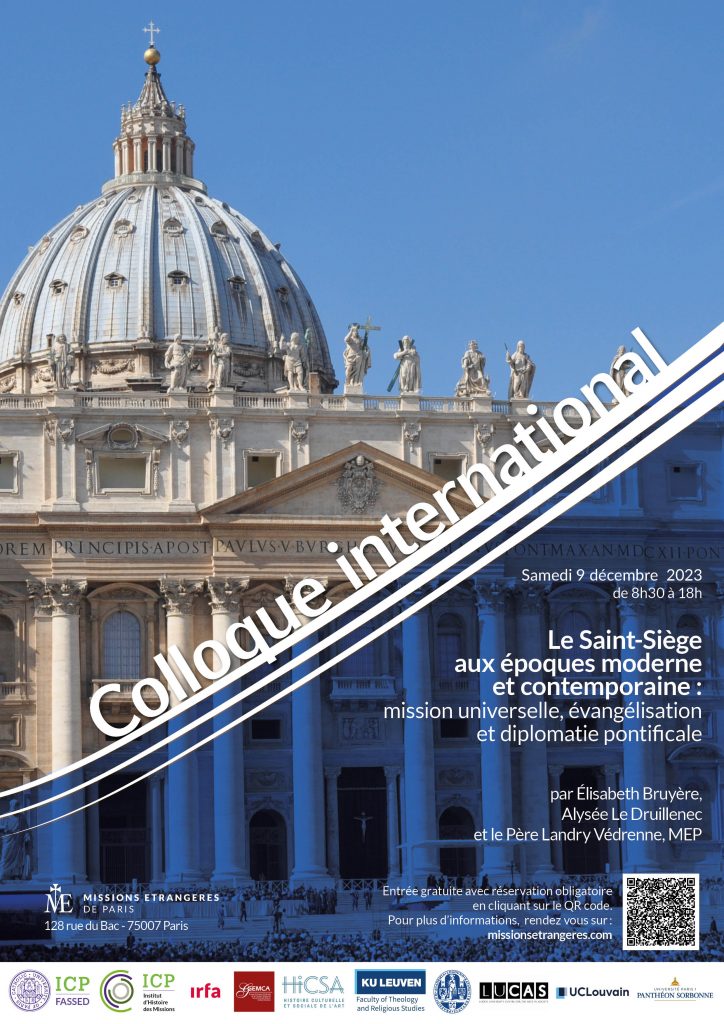 THE HOLY SEE IN MODERN AND CONTEMPORARY TIMES: UNIVERSAL MISSION, EVANGELIZATION AND PAPAL DIPLOMACY
Saturday, December 9, 2023, 8:30 a.m. to 6 p.m.
organized by :
– Élisabeth Bruyère (Academia Belgica, KU Leuven),
– Alysée Le Druillenec (Université Paris 1 Panthéon-Sorbonne, UCLouvain)
– and Father Landry Védrenne (Institut Catholique de Paris/FASSED, Taiwan Studies
Project at EHESS)
The Holy See is a highly unusual player on the international stage. It occupies an original place among nations, not only because of its legal status, but also because of the goals it pursues.
Represented by the Pope, who is both spiritual and temporal head of state, the Holy See aims to carry out its lofty mission of proclaiming the Gospel and establishing peace for all, while maintaining its neutrality and even impartiality.
The Sovereign Pontiff uses a diplomacy of mediation and influence not only to defend Catholic interests, but also for the protection of every human person, respect for religious freedom, and concord between peoples.
The Pope has the Roman Curia at his disposal to carry out his mission as successor to Saint Peter. How do the various dicasteries assist him in his Petrine office? What are the challenges of such a mission?
Taking a panorama from the modern era to the present day, and considering several continents, this symposium aims to shed light on the diplomatic and missionary stakes of the pontifical government. We will answer this question by studying the field of action of two dicasteries in particular: the Secretariat of State and that of Evangelization, formerly the Congregation of Propaganda Fide.
To this end, we propose four panels:
Panel 1: The Secretariat of State and the Dicastery of Evangelization, actors in pontifical diplomacy
and the Church's universal mission
Panel 2: The Holy See and the West
Panel 3: The Holy See and the missions
Panel 4: The Holy See and the diplomacy of Art
Drawing on the expertise of Vatican archivists, specialists in the papacy and apostolic diplomacy, geopolitics, missiology, mission history and art history, we will acquire essential elements for a better understanding of the place and role of the Holy See at the heart of the international community.
Link to mandatory reservation right here
ACCESS : Mission Étrangères de Paris, 128 rue de Bac, 75007 Paris
HOUR : Samedi 9 décembre de 8h30 à 18h