Félix Neveu founded an orphanage and schools in Mysore. He also wrote down stories and traditions collected on the spot. He entitled this manuscript (dated 1878-1880), "Indian Evenings, translated into French verse".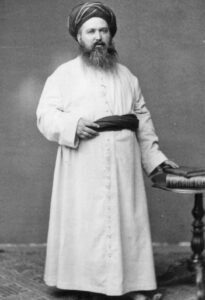 As he himself explains, he wanted to versify in French pieces of Indian history and culture in this collection:
"Who of us, after a tiring day, does not like to lend an ear, at least for a moment, to these old refrains of the past, to the sayings of our fathers? This is the pleasure I felt in translating these pages of the old days, this is also the pleasure that I believe will be felt by those who want to read them in their spare time" [vol.984, f°92].
Gifted with a great sense of drawing, Félix Neveu embellished his text with scenes of daily life, landscapes and representations of monuments.
[IRFA, archives, vol. 984] "Soirées indiennes, traduites en vers français par F. Neveu"
[IRFA, iconotheque, boîte F. Neveu] Portrait du P. Neveu en Inde