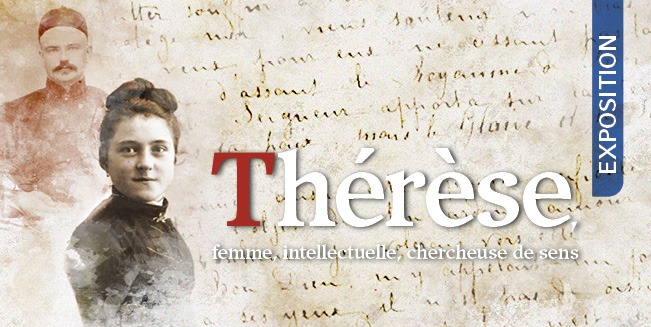 Thérèse and the Paris Foreign Missions
The 2nd of January 2023 marks the 150th anniversary of the birth of Saint Theresa of the Child Jesus, an anniversary that UNESCO has chosen to commemorate.
On this occasion, the Paris Foreign Missions are offering an exhibition divided in two parts.
The first part, entitled Thérèse of Lisieux or the Burning of Love, takes up her message for her own people, her contemporaries and all humanity.
The second part presents an exclusive selection of documents from the collections of the IRFA and the archives of the Carmel of Lisieux, with the aim of illustrating the link between Thérèse and her missionary brothers. It is divided into four themes, ranging from the end of the XIXᵉ century to the middle of the XXᵉ century:
– How Thérèse came to know the MEP
– Thérèse and Théophane Vénard
– The spread of the Story of a Soul in Asia
– How the MEP spread devotion to Thérèse in Asia
Therese and the MEP
The MEP fathers have often played a major role in the establishment of various religious congregations in Asia. Thus, less than 30 years after its foundation, the Carmel of Lisieux created the Carmel of Saigon thanks to Mgr Lefebvre, vicar apostolic of Western Cochinchina. A second Carmel was founded in Hanoi in 1895, thanks to Mgr Gendreau,apostolic vicar of Western Tonkin, who was joined by Mgr Dépierre, the new vicar apostolic of Western Cochinchina.
Adolphe Roulland, a young seminarian from the diocese of Bayeux-Lisieux, also turned to the Carmel of Lisieux in search of an "auxiliary angel" to assist him in his ministry. Mother Marie de Gonzague entrusted him to the prayers of Sister Thérèse of the Child Jesus in June 1896.
"Not being able to be a missionary of action, I wanted to be one of love and penance" wrote Thérèse to Fr Adolphe Roulland, whose departure for Sichuan she followed during the last years of her life. Roulland introduced her to the reading of missionary biographies and in November 1896 Thérèse discovered the writings of the missionary MEP Théophane Vénard (1829-1861). Greatly moved by his elegant style, which showed a great desire for martyrdom, she made him her "favourite saint".
Later, it was the arrival of the first prints of Histoire d'une âme at the Paris seminary that brought the cult of the little Thérèse to Asia. Indeed, many aspiring missionaries, like Fr Marmonier, found in Thérèse a little sister in heaven and carried her message into their missions.
From 18 January to 08 April 2023
Tuesday to Saturday from 10 am to 6 pm
ACCESS: 128 rue du Bac 75007 Paris.
Programme around the exhibition and press kit